Discover a totally preserved tropical island only 4hrs from Rio de Janeiro !
Ilha Grande is the destination for ecotourism in the Rio de Janeiro region. Located about 15kms off the Costa Verde, it is easily reached from the town of Angra dos Reis. The trip is made on board schooners that provide daily shuttles between the island and the mainland with a journey of about an hour and a half (or half an hour by speedboat). Easily accessible, it represents a choice destination for travellers who have already planned a trip to Rio de Janeiro, but wish to extend it with a nature stop in the region.
The island has a small population of only 3,000 inhabitants, most of them living in small communities and the main one being Vila do Abraao. The island is 193 km² of rugged terrain covered with virtually untouched rainforest that is here for travellers to explore once they have landed on its beaches with crystal clear waters. Ilha Grande is a real Treasure Island paradise, straight out of Stevenson's novel. It is a particularly attractive destination that lends itself as well to a romantic getaway as to a family holiday. It will even satisfy culture lovers thanks to a rich history with ruins scattered across the island. Ilha Grande has many beaches, small coves and other creeks around its perimeter which are more or less deserted depending on their remoteness. You have to buy a shuttle boat ticket that leaves from Vila do Abraao to reach some of them. The many beaches on Ilha Grande offer both calm and transparent waters ideal for snorkelling and diving and on others there are perfect waves for surfing.
The island's other main attraction lies in the large number of marked and maintained hiking trails along the coast and also inland. These are useful to reach the different points of the island other than the few existing roads and also allow you to climb to the island's peaks such as the Pico do Papagaio (parrot peak) which is the most famous, at about 959m altitude. From up here you have an impressive view of the island and the continent in the distance. It's a perfect place to see the amazing landscape and vegetation crisscrossing the island from coast to coast.
The hamlet of Vila do Abraao stretches along the coast with two paths that go up perpendicular to the beach. It consists mainly of pousadas, but there are also some restaurants and beach rental companies to hire beach equipment and bicycles to ride around the island.
A stay on the Ilha Grande is a time to relax and immerse yourself in a natural and preserved environment. It's an ideal place to reflect and really relax far from modern civilisation in a place that seems lost in time.
In a stay on the Ilha Grande
discover:
A preserved ecological world
Dream beaches
Hiking trails
The magnificent Atlantic Forest
Charming pousadas
Our Ilha Grande package includes
1 transfer from Rio de Janeiro (hotel or airport) to Ilha Grande (transfer in a private vehicle from Rio de Janeiro to Angra dos Reis + regular boat from Angra dos Reis to Vila do Abraao)
3 nights in a double room at your chosen pousada (Naturalia or Sagu Mini Resort)
1 transfer from Ilha Grande to Rio de Janeiro (hotel or airport) – (Transfer by regular boat from Vila do Abrao to Angra dos Reis + private vehicle transfer from Angra dos Reis to Rio de Janeiro).
Enjoy Your peaceful paradise trip to Ilha Grande
The difference with other nature destinations in the region is that this island paradise has only been open to visitors for the last 20 years!
A trip to Ilha Grande is a chance to see a wild jungle enclave that is still very preserved.
Presenting itself as operating an ecotourism respectful of the Mata Atlantica rainforest which is now almost completely decimated on the Brazilian coast, the island has little infrastructure and personal cars are prohibited. So you will find very few roads and cars, but 150kms of hiking trails linking villages and preserved coastal hamlets that are sometimes accessible by bike.
Thus, you can browse the National Park in all tranquillity looking for birds or monkeys, without being bothered by modern civilization. It's ideal for a relaxing break during your trip to Brazil.
You will come across many waterfalls and lagoons during your walks in the forest on marked and well maintained trails that are accessible to all. The beaches are often deserted, and are considered to be among the most beautiful in the world, including Lopes Mendes beach. With 3kms of white sand, emerald green lush vegetation and a turquoise blue ocean, it is a paradise for surfers throughout the year.
Swimming and snorkelling are best on the most sheltered beaches of the inner coast such as Lagoa Azul or Lagoa Verde reachable by boat, or the bay of Saco do Céu. For surfing, it's best to go to the beaches facing the sea. There is something for everyone on Ilha Grande, from the most adventurous travellers to contemplative singles, couples or families!
Explore An isolated incredible history of Ilha Grande
Ilha Grande, called Ipaum Guacu by the Tamoios indians, is the largest ocean island of Brazil off the Costa Verde, in the Rio de Janeiro state.
29kms long and 12kms wide, it is surrounded by several smaller islands including Ilha dos Macacos, Ilha do Meio and Ilha Pau-a-pino that were often used by seafarers such as Jorge Grego. These pirates were in search of ships full of treasures going to Rio or coming from Paraty in the mid 18th century.
Ilha Grande is large enough to have its own ressources of water and food and is geographically isolated. It therefore harboured all sorts of undesirable populations in the past : lepers, Indians, slaves, and also criminals who were imprisoned in the Dois Rios prison, built at the end of the 19th century.
It was only in 1994 that the prison was closed and could give way to a policy of tourism. Its ecosystem has hardly been disturbed by urbanization or intensive agriculture and therefore has an incredible richness and is particularly well preserved. It's an exceptional situation that naturally led the authorities to promote ecotourism, to help protect this unique natural heritage.
The true luxury of Ilha Grande is its peace and quiet so close to a megalopolis.
Brazil ? Carnival, samba, hectic nightlife in Rio?
Yes, this beautiful country can offer all this to its visitors but Ilha Grande offers you a little corner of paradise, a garden of Eden where Robinson Crusoe would have had no desire to escape …
So, if you're looking for a hustle-free vacation and somewhere to rejuvenate, reconnect and admire the wonders of nature that surround you, Ilha Grande will meet all your expectations.
Detailed program for a stay on Ilha Grande
The transfers between Rio de Janeiro and the Costa Verde port mentioned in the program are a private service with a Portuguese speaking driver.
The transfers by boat from the Costa Verde dos Reis and Vila do Abraao mentioned in the program are aboard regular boat services and so are not private.
Meals are not included except the buffet breakfasts at the pousada where you stay.
Day 1: Rio de Janeiro – Ilha Grande
Depending on the program for your trip to Brazil, a driver and vehicle will pick you up at one of the airports or hotels in Rio de Janeiro.
For the first leg of your transfer to Ilha Grande you will take the road towards the city of Angra dos Reis. After about 2hrs30, you will arrive at the port of Angra. From here, you will take one of the boats making the 1hr30 regular trip to the village of Abraao on the island.
Here, a member of the pousada staff will welcome you and help take you and your luggage to the pousada.
After your check-in, you can rest or go for a wander around the village and discover this little haven of peace.
Night at the pousada.
Days 2 & 3: Ilha Grande
Free days.
After breakfast at the pousada restaurant, the beaches and relaxation await you. You can also rent bicycles in the village to get around quicker or go for a walk in the surroundings.
We suggest you go to one of the beaches that has made the reputation of this island, such as Praia Lopes Mendes, one of the most beautiful in Brazil with its 3kms of white sand and ideal surfing waves. At 6kms from the village, you can reach it by taking the T10 hiking path, or take a boat from the Vila and sail to Praia do Pouso and then walk about twenty minutes (1km) to the beach.
You can also reach other beaches by boat or hiking trails or choose to visit the various ruins on the island.
If you want to snorkel or scuba dive, you can rent equipment near the Vila do Abraao wharf and buy a ticket for the boat trip to the best spots on the other side of the island ( Lagoas Azul & Verde).
In high season you will find food vendors on the main beaches as well as water sports rental companies. However, don't forget to take enough water with you if you go on an adventure in the most remote areas.
Night at the pousada.
Day 4: Ilha Grande – Rio de Janeiro
After breakfast at the pousada you have the morning to enjoy your hotel, the beach or a last stroll on the island. The hotel check-out is at noon.
At 13:00, you will take a regular shuttle from the quay in Vila do Abraao to Angra dos Reis. Depending on the type of boat, the journey varies between 45min and 1h30.
After arriving in Angra, you disembark and join the driver waiting for you at the exit of Port Estaçao Santa Luzia.
You then take the road towards Rio de Janeiro.
During the journey you can admire, one last time, the splendid landscapes of the Costa Verde. Halfway, you will turn inland and leave the Costa Verde to reach the capital Carioca.
On arrival in Rio de Janeiro, your transport will drop you off at one of the city's airports (Santos Dumont & Galeao) for your flight or at a hotel in the city to continue your stay (1h30 to 2h30 depending on the destination).
End of our services.
Our selection of accommodation on Ilha Grande
Pousada Naturalia (standard)
The Pousada Naturalia is a friendly little establishment built to be in harmony with its environment and giving pride of place to natural materials such as wood. Located at the end of the village Vila do Abraao for more tranquillity, this hotel does not have a television in its 12 rooms in order to privilege the contact with the environment that surrounds it. On one side, the ocean is visible from the private balcony of each room, on the other the Mata Atlantica rainforest.
It is a pleasant pousada offering services that make it the best value for money in the village. It's a quality address that will suit all categories of travellers not wanting to spend more than necessary, but looking for a certain level of comfort and pleasure.
Pousada Sagú mini Resort (Superior)
With 9 spacious and comfortable rooms each boasting a personalized and tasteful decoration, facing the ocean and in a vast garden of 8 hectares the pousada Sagú is the best establishment in the Vila do Abraao neighbourhood.
With beautiful facilities, a good restaurant and an ideal location facing the bay, just past the beach da Julia, it is isolated from the rest of the village. All this makes it the most exclusive hotel. If you are looking for top of the range services, then this hotel is the most suitable accommodation in Ilha Grande.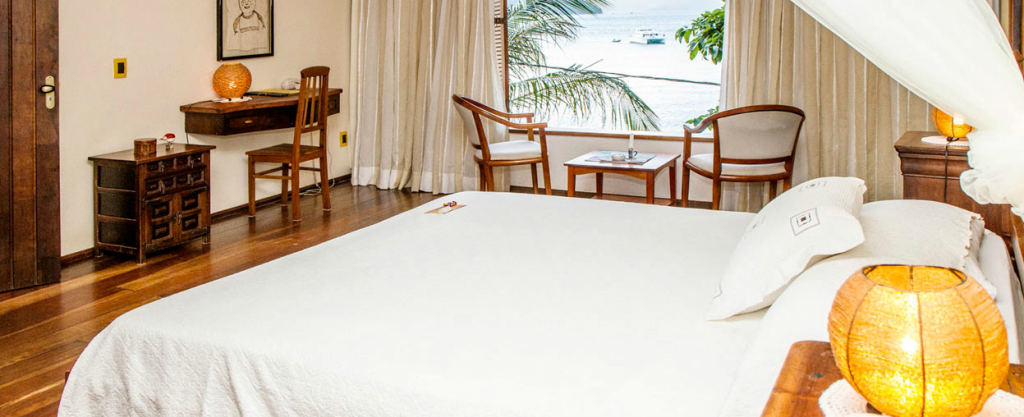 Standard category:
2 persons
$469 /pers
–
4 persons
$383 /pers
Superior category
2 persons
$663 /pers
–
4 persons
$577 /pers
Low season price of the current year, given as an indication and not worth quote
See our other packages to enrich your stay on Ilha Grande