Thousands of visitors and a colossal exhibition for
the biggest "carioca" party!
Now a world-class tourist event, Rio de Janeiro's carnival is emblematic of the folia (festive madness!) that accompanies carnival in Brazil. Very famous for the parades of its samba schools and for its balls, it also offers an uninterrupted street party, which combines carioca extravagance and joie de vivre.
A carnival enriched by extravagant balls
As with most of the country's pre-Lenten celebrations, the carnival in Rio begins with "preparatory" street festivities around the blocos (costume parades) and batucadas (percussion orchestras) of the neighborhoods. A few days before Ash Wednesday, these turn into balls and huge concerts.
These take the form of large popular gatherings in symbolic places of the city, however the gatherings are becoming increasingly ubiquitous throughout the metropolis, taking place in more "chic" or even mundane places such as receptions in hotels and clubs. Get ready to dance, laugh, and sing in a hectic atmosphere!
The samba schools parade, a highlight of the Carnival in Rio
The competition between the samba schools of the city represents an essential moment of the Carnival. It takes place in the Marquês-de-Sapucaí sambodrome, an enclosure specially designed to accommodate the large number of dancers and floats making up the parades. These are distinguished by their spectacular artistic performances, which are enhanced by splendid sets and costumes.
A dozen details of each parade are noted in order award the title of champion to the most deserving school.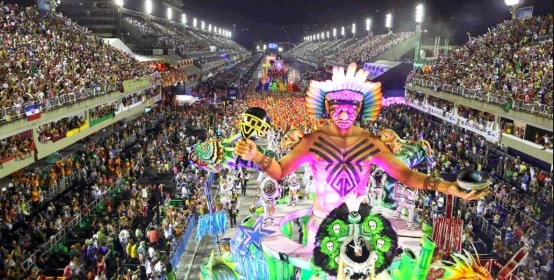 Samba school parades – late to the party
The integration of dance and music to the festivities of the Brazilian carnival dates back to the second half of the nineteenth century, it was not until 1932 that the first (unofficial) samba school parade was held in Rio.
Other pages on Carnaval in Brazil