6 Magnificent landmarks in Brazil (and how to get there!)
Landmarks in Brazil range from natural world wonders, to colonial cities and mountaintop statues. Luckily, tourism infrastructure in Brazil is always improving, so we are all in with a chance with seeing these unique sites. Brazil Selection have been organizing luxury tours in Brazil for years, and we know that it would be impossible to cover them all in one post. So, here are some of our top Brazilian landmarks that should be on your bucket list.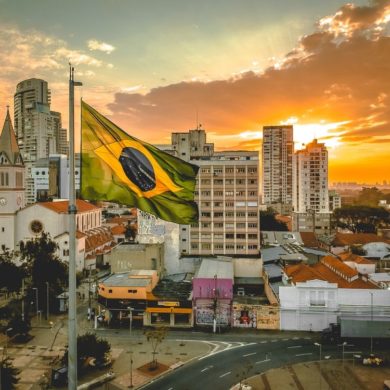 Iguaçu Falls straddle the border of Brazil and Argentina and are one of the most incredible wonders of the natural world. The enormous cascades stretch for 2700 metres in width and range between 200 and 269 ft! They are so impressive that Eleanor Roosevelt, wife of ex-US president exclaimed "My Poor Niagara!" when she visited the landmark near Foz do Iguaçu. This is not surprising as the giant Brazilian landmark is about 100ft taller and about twice as wide as its North American counterpart. Most of the waterfalls sit on the Argentinian side of the border, which makes the Brazilian side better for getting a full landscape view. The Argentinian side is better for getting up close to the falls and feeling the sheer power of nature! Luckily, you can visit both sides easily from the Brazilian town of Foz do Iguaçu.
Entrance to the park costs around $30 USD. You can cross the border from Brazil to Argentina for a full or half day tour. The best way to visit, is to buy a full day Iguaçu Falls tour which includes both sides of the border in one price with a guide included. Also, don't forget to pay a visit to the Iguaçu bird park on the Brazilian side of the falls were you can get up close to one of the worlds most impressive collections of tropical birds. You will come into contact with all sorts of winged creatures in specially designed aviaries. Also, if you really want to experience the full force of this natural Brazilian landmark, book yourself a ride on the Macuco Safari. You will be taken on a special tour through the forest before boarding high-powered RIB boats and speeding right up next to the falls. Come prepared though, you might get splashed! A Brazilian landmark not to be missed and an unforgettable experience.
There is an international airport in Foz do Iguacu, which makes it a popular starting point for full tours of Brazil.
Lençóis Maranhenses National Park
The desert of Lençóis Maranhenses, hidden in the Northeast of Brazil is a breath-taking landscape of massive sand dunes. What is special about this desert, is that between the giant dunes, you will find pools of crystal clear freshwater. An other-worldly experience, this 600 square mile national park is one of the main landmarks in Northeast Brazil. The nearest city and capital of the state of Maranhão is São Luís, famous for its colonial architecture and particular affinity with reggae music in Brazil, it is worth a stopover as well.
The best way to get to visit the Lençóis is from Barrerinhas. You can explore the national park with a guide in a 4×4 truck or as part of a group in an all-terrain vehicle. We recommend a full day to explore the lakes! Normally a visit to this desert forms part of a bigger tour along the Northeast coast of Brazil, also known as the route of emotions. On it you will see the ocher colored cliffs emblematic of this region, deserted beaches stretching as far as the eye can see, and small fishing villages that still live in traditional Northeastern ways. Remember the best time to visit Lençóis is from May to August, this is just after the rainy season and when the lakes are their fullest. After September the sun dries up most of the lakes! Fly into either São Luís (domestic) or Fortaleza (international) airports to land as close as possible to this wonderful Brazilian landmark.
Meeting of the Waters (Amazon)
The Meeting of the Waters is one of the main landmarks close to Manaus in the Brazilian Amazon. For 6km the Amazon River (Rio Solimões) and the Rio Negro run side by side but never mix. What makes it amazing to see is that the water of both rivers are different in color. Tourists are dazzled as the dark blackwater of the Rio Negro and the pale sandy coloured water of the Rio Solimões refuse to mingle. This is caused by differences in density, speed and temperature of the two rivers.
The best way to see the meeting of the waters is on an Amazon cruise from Manaus. Also, if you choose to stay in an Amazon lodge such as the Anavilhanas lodge, or Juma lodge, then you will be lucky enough to catch the spectacle on the way!
Avenida Paulista (Paulista Avenue)
Avenida Paulista is the financial and business centre of South America, but it is also home to many important cultural institutions such as Brazil's most impressive fine-art museum: São Paulo Museum of Art (MASP). The Avenue was built in 1891 as a residential neighbourhood for the elite, eventually it became the first paved street in São Paulo in 1909 with asphalt imported from Germany.
Here, you can really feel another side to Brazil, compared to the natural wonders at Iguaçu or the cultural feeling of Rio de Janeiro, São Paulo and Avenida Paulista especially, are a symbol of Brazil's economic power and drive to become a player along with other highly financially developed nations. Many important national events take place on Avenida Paulista every year. The largest gay pride parade in the world takes place ere every May/June as well as the Saint Silvester Road Race on New Year's Eve. If you do visit São Paulo, make sure you get a ticket for the Teatro Brasileiro de Comedia, a comedy club that often distributes free tickets for its weekly shows. Avenida Paulista is an unmissable Brazilian landmark in the country's largest city.
Museum of Tomorrow (Rio de Janeiro)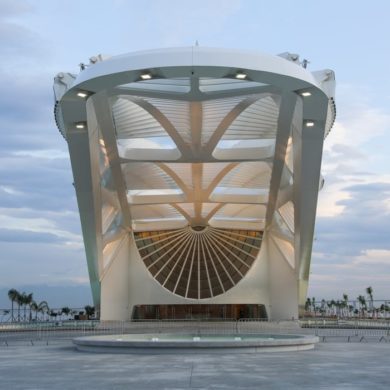 For our last Brazilian landmark, we go back to Brazil's cultural capital. The Museum of Tomorrow is an exceptional science museum in Rio de Janeiro. It is the city's newest museum, opened in December 2015 with the presence of Brazilian president Dilma Rousseff. It aims to show visitors how the future could look if we built sustainable cities as part of a more ecological world. There is a focus on how innovation can help us achieve a sustainable future. You will experience five areas: Cosmos, Earth, Anthropocene, Tomorrow and Us. The museum incorporates visuals, sounds and experiments to provide a fully interactive and immersive experience for visitors.
The museum only opens from Tuesday to Sunday from 10.00 to 17.00.
Note: Admission is free on Tuesdays!
There you have it, some of the most amazing landmarks across Brazil. For any advice in terms of visiting these places on a tour of Brazil, get in contact with us.